For Under Hollow Hills, we hired 22 artists and illustrators, in a variety of mediums, as well as licensing some stock images. We want to evoke the fancy and variety, not to say anarchy, befitting a game about a traveling show, and about fairies. We are
Eric Orchard is a Canadian cartoonist, illustrator, writer and dad, and an award winning illustrator and cartoonist, best known for the graphic novels Maddy Kettle and Bera The One Headed Troll. " I think of myself as a visual storyteller. I need to tell stories in words and pictures. I write fantasy, fairy tale stories and darkly creepy tales for kids of all ages".
Find @inkybat on twitter and instagram, also on patreon.
His highly detailed and slightly eerie work reminded me of both Arthur Rackham and Edward Gorey, in the best ways.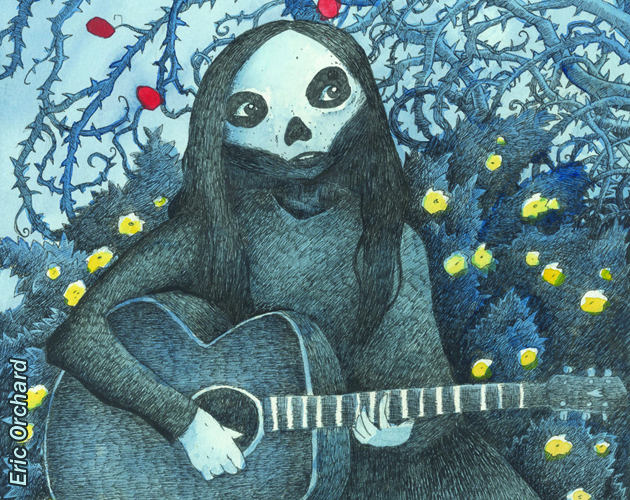 Mike Bukowick we know best as an exceptionally compassionate and capable Learning Support Specialist, and I've been thrilled to work with him as my staff counterpart teaching LARP. Discovering that he is also a skilled artist was a real treat.
Find his work here: Michael Bukowick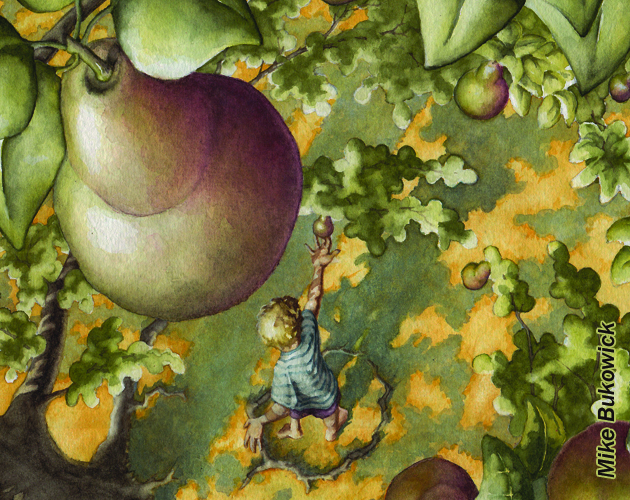 Ash Cheshire is fairy royalty masquerading as a non-binary creator of art and games in northern California.
Follow fem for sculpture art @thevespertillian, playable art @ashcangames and patreon.
Fey are a sculptor as well, and the chance to send fem an antique cigar box to transform into a traveling circus wagon was one I couldn't pass up!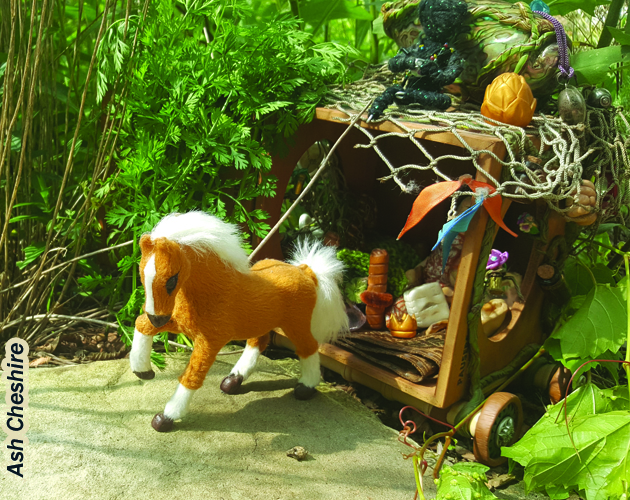 Jody Edwards does beautiful watercolors, often of bird feathers or wonderful nerdy things. You can buy prints from her etsy shop, and follow @jodyvanb on twitter. She was my top choice for the Feathercloak and absolutely came through.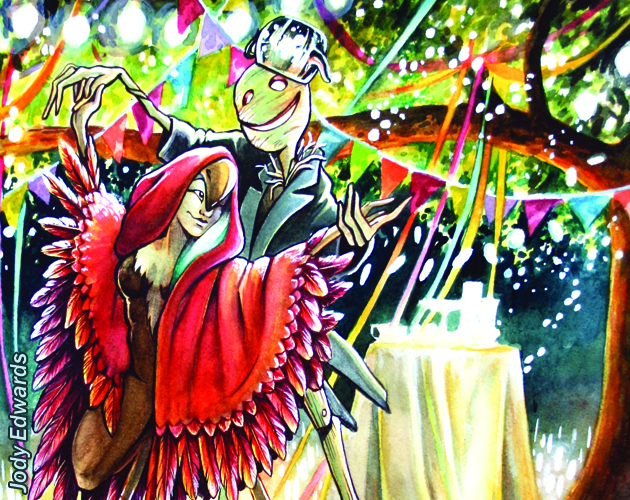 Emily McAllan, a filmmaker and photographer, part-time swamp witch and "big old nerd", put together a photo shoot with an amazing model, found the perfect Walking Tree, and helped us imagine what the Circus Astounding might look like in the real world. She's on twitter @blackwoolsays and this photo shoot is why I asked her to work with us.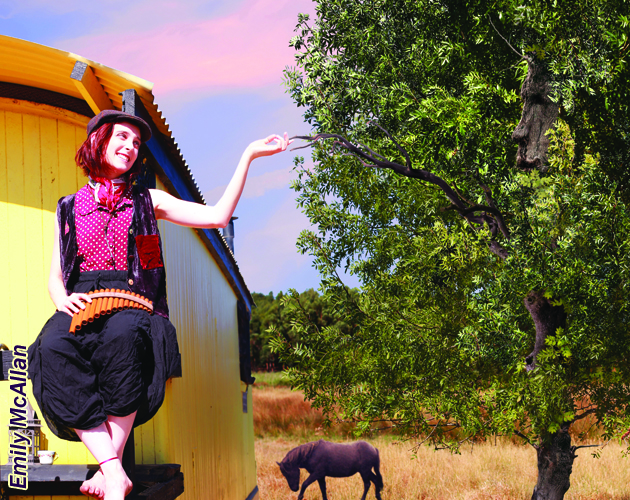 Brian Musson photographs Friesian horses, among other things. Once I saw his picture of Regina rising out of a pool, I basically could not rest until I had secured that stunning photo to help carry the magnificent fae creature that is The Nightmare Horse, even though Friesians are notoriously anything but nightmares. Please do go look at all the other pictures of these fantastic animals, and realize how hard it was to choose just one!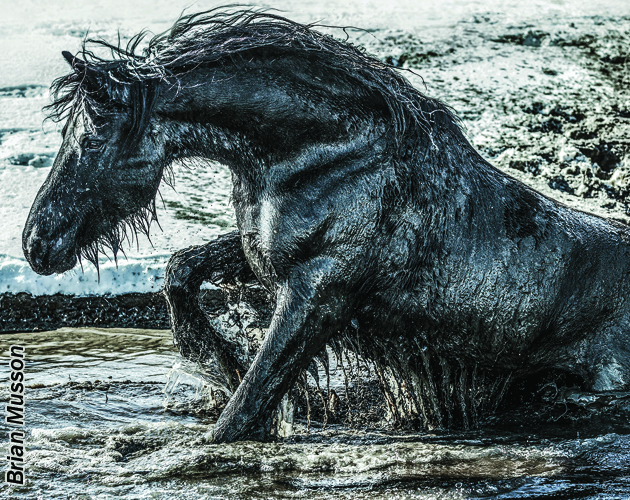 Michelle Ermolenko is a nonbinary freelance illustrator, comics and merch maker based in New York City. You can find them exploring dreams, folklore, and other themes in their comics and illustration work. When not working various day jobs, you can find them drinking far too much coffee and trying to raise far too many plants. Find them on twitter @requiempluie, support them via their shop, follow them on patreon, or leave a tip, find their work on their portfolio site. I was drawn to the dazzle and glamour of their work, and the sense of misdirection and surprise I feel as I look at their richly colorful world.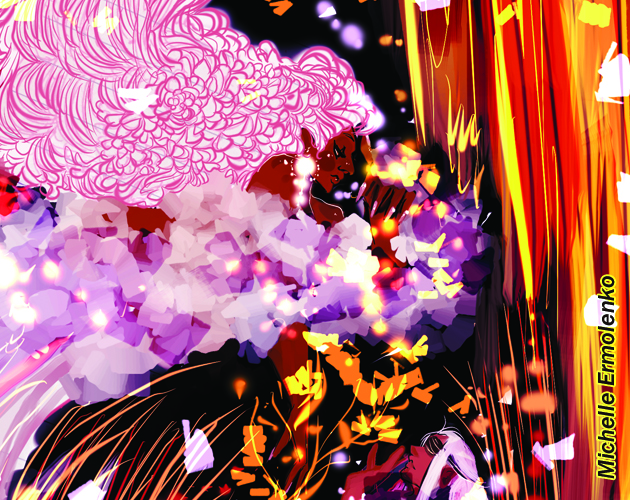 Vincent Baker is a multi-talented artist with a very deep understanding of this project, and I'm thrilled to have his work featured in our book! Find him on twitter at @lumpleygames, and on patreon.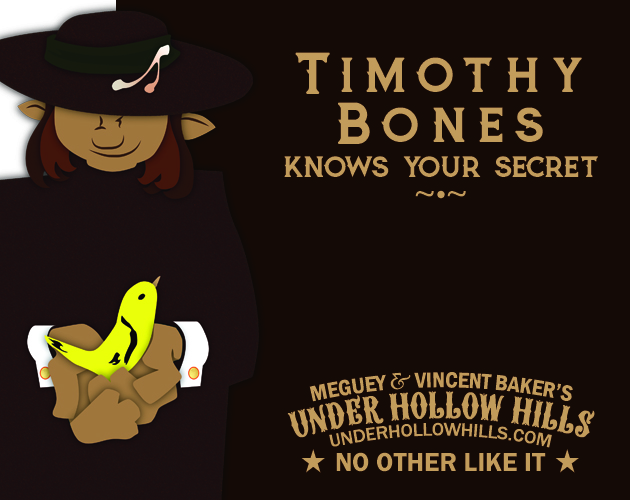 Justin Lanjil is a queer illustrator and storyteller with a passion for the fantastical and macabre, who spends his time dreaming up tales and collecting way too many dice. There's a wonderful line in his work, right on the edge between worlds; please check out his portfolio, and find him on Instagram and twitter.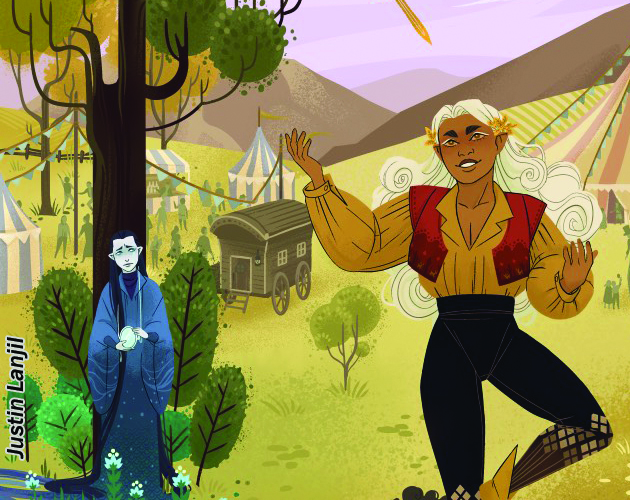 Matthew Spencer works primarily in ink and watercolor. He has a particular interest in all things magical, historical, and queer and is currently in the early stages of designing & illustrating his own tarot deck: The Courtly Beasts Tarot. Matthew lives in Michigan with a flock of chickens, a couple of horses, and some pretty cool people. Find him on twitter, and check out his work. Matthew's illustrations and lino-cuts reminded me of woodcuts from hundreds of years ago, and the timelessness of fairytales.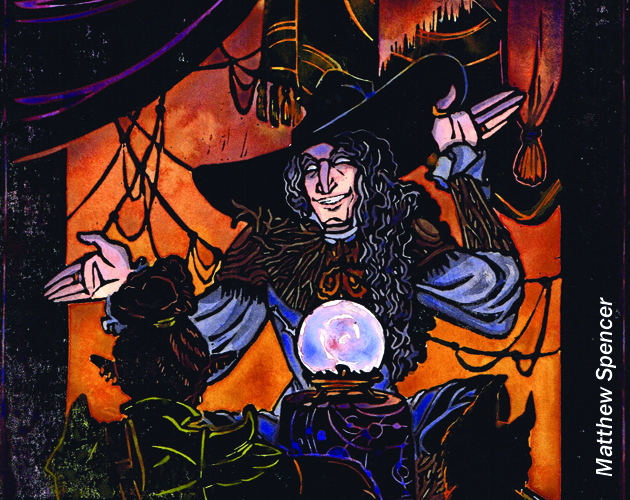 Loren Ponder is a digital illustrator and comic artist from the US. Their work weaves together themes of queerness, disability, and fantasy: depicting people, nature, and creatures using bright colors and bold lines. Loren's work is here, and you can follow them on twitter. Their beautiful ink work was a natural for the NIghtmare Horse.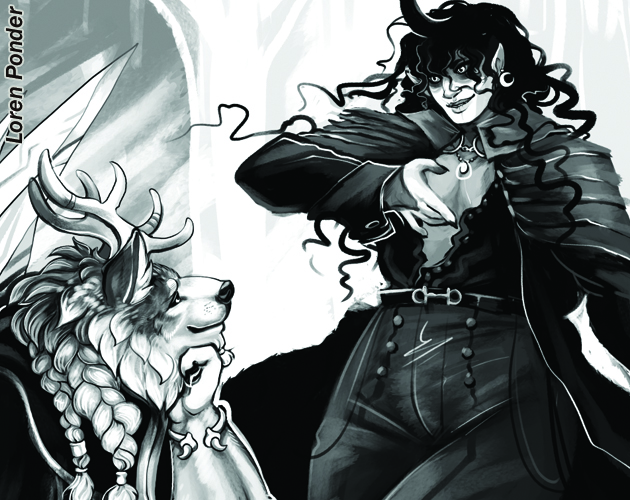 Robohaven, a designer/artist "trying to make sharing feelings easier", has two very different pieces in the book. This is part of what I wanted as an expression of the fairy circus, and I'm so glad to have it! Follow them @Robohaven on twitter!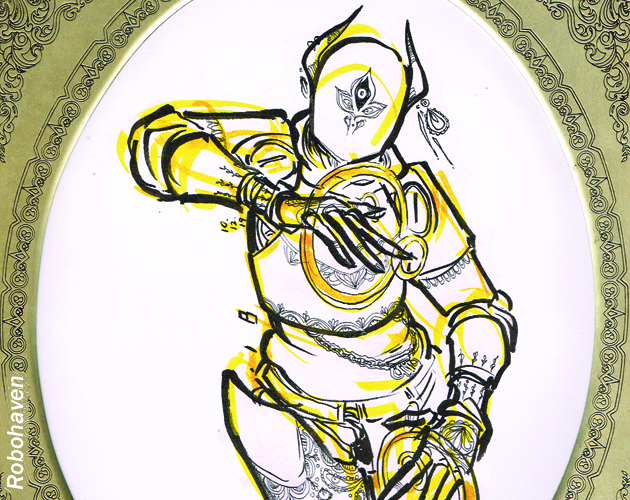 McEwan Redden is a nonbinary artist working in character, prop, and background design for animation. They are enthusiastic about researching historical costumes and unusual animals, and personally invested in drawing weird creatures and queer disabled characters (of which they are both). Follow them @satourni on instagram/tumblr/twitter, and check out their work here.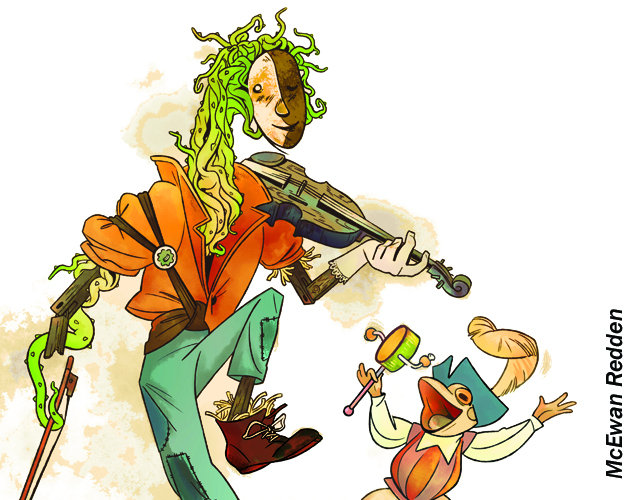 Hannah Culbert is a non-binary goblin dwelling in the frozen wastes of Minneapolis. They love Halloween, weird old silent films, and doing copious amounts of research on folklore and plant symbolism. In addition to freelancing as an illustrator, they play the character Slake (a beetle-obsessed half-orc fighter) on the powerfully weird DnD 5e podcast Dames and Dragons. Follow @Thistlebeetle on twitter, or check out their portfolio. Hannah's circus poster style is a perfect fit for Under Hollow Hills.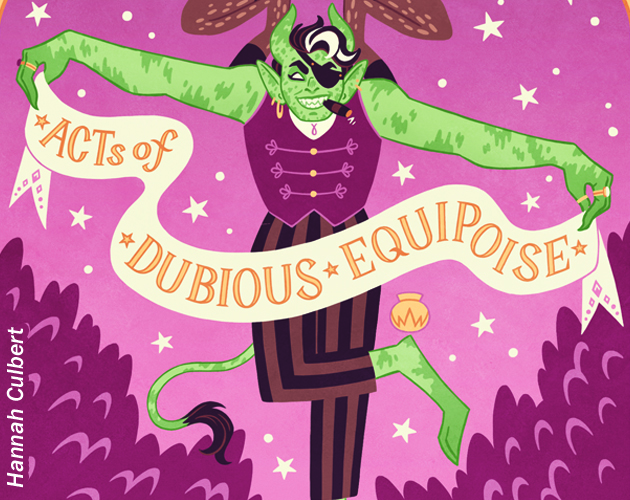 Levon Jihanian is a painter, writer, animator and comic artist living in LA,with work in a host of places. Find him at http://www.levonjihanian.com/ and @ForkFrenzy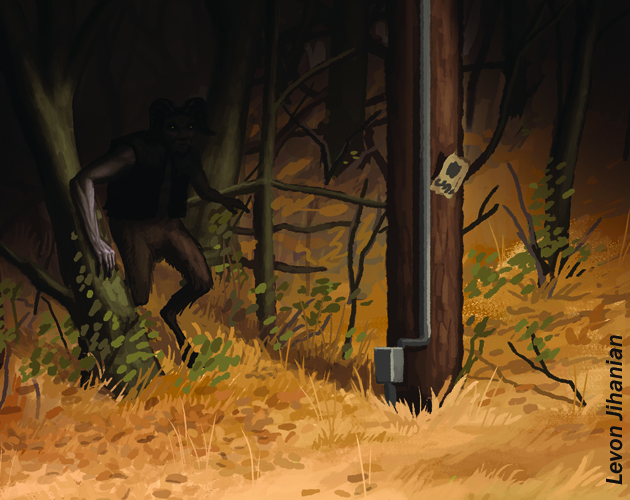 Keet Leibowitz designs software, quilts, and illustrations from the suburbs of Philadelphia, USA. Her artwork celebrates nature and community, and just a little bit of You can see her work on instagram here.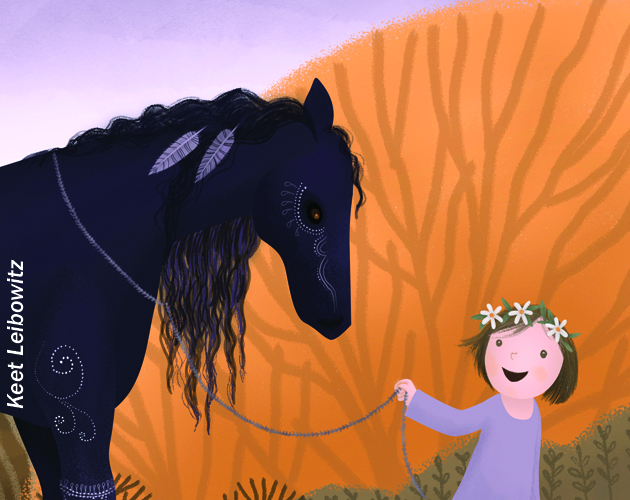 Barry Deutsch created the award-winning Hereville graphic novel series, about "yet another 11-year-old troll-fighting Orthodox Jewish girl," and is part of the team adapting the Wings of Fire novels into comics. With Becky Hawkins, he co-creates the also award-winning webcomic SuperButch, about a 1940s lesbian superhero protecting gay bars from corrupt cops. Barry lives in a bright blue house with bright pink trim in Portland, Oregon, and is probably listening to the cast album of a musical right now.
Find him @barrydeutsch, read his comics, and check out his patreon.
I've had the pleasure of knowing Barry for a very long time, and am thrilled to have his rendition of an autograph line in the book!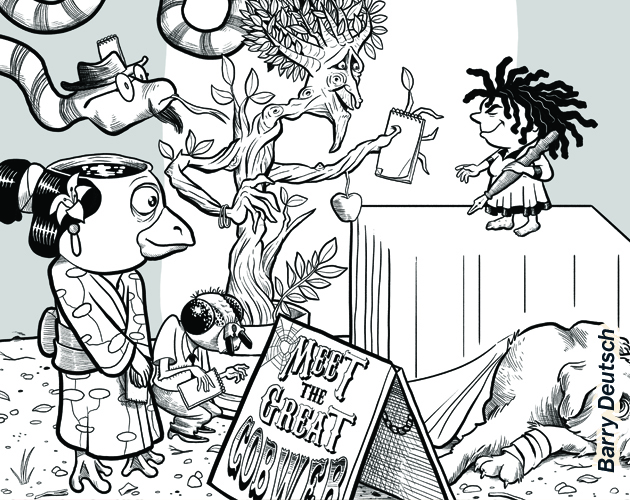 Jabari Weathers cannot confirm or deny their suspected status as an exiled goblin regent seeking refuge beyond the veil. They presently reside in Baltimore, Maryland, making fantasy and sci-fi illustrations and spinning worlds and fictions for roleplaying games and other interactive projects out of words to keep up their glamour. Other things that they enjoy are strange films, stranger music, singing in public places, and the thoroughly uncanny. You can follow them on Twitter and Instagram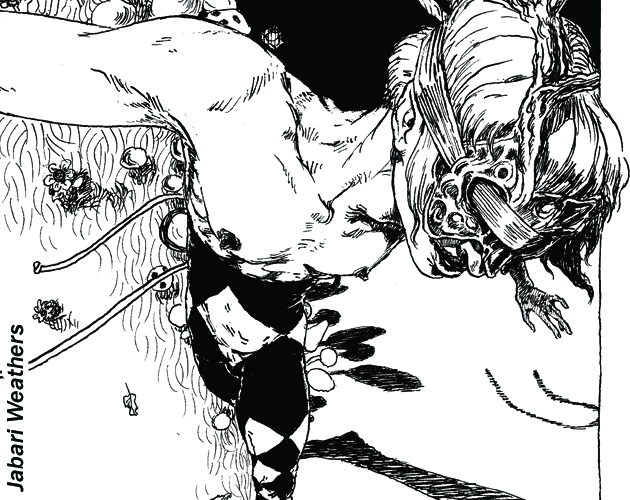 Aaron King is a collage artist, RPG writer, and bookseller in Minneapolis, MN, USA. Find them on Twitter @aaronmfking and buy their games. The assemblage and found-art pieces that Aaron does play with layers and perception, things out of context and attention to small details. It's perfect for the Interloper, who is out of place and in disguise.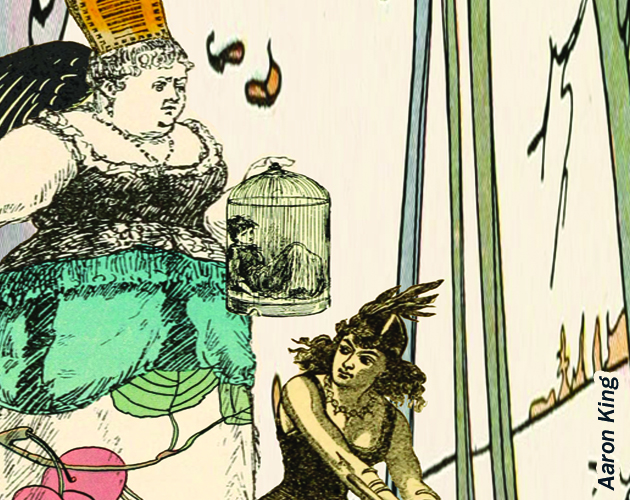 Whitney Delaglio is a writer, game designer, and artist. Her aquatic roleplaying game, Prism, is about sensuality, relationships, and conflict resolution. As a support class in the gaming community, she is an advocator of providing a safe space for intimacy and emotional vulnerability. Find her on twitter @widdledragon and at her site. Her style enchanted me in Prism, and I love having a piece of her work in Under Hollow Hills.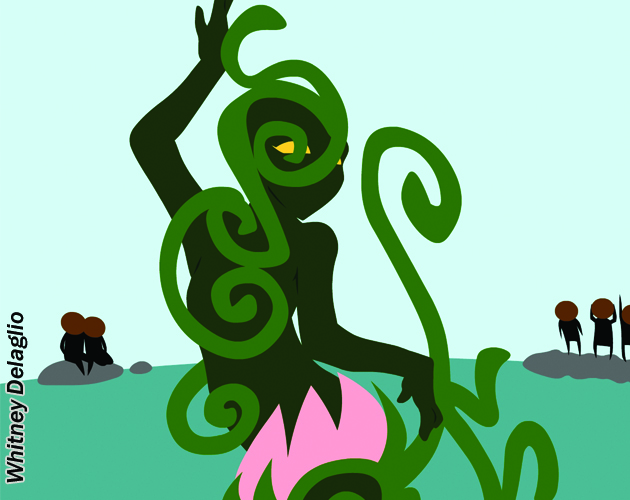 Meredith Scheff-King says "I'm a creative polyglot. I've worked in rapid prototyping, illustration, cartooning, experimental music, electronics, interactive hardware, E-Textiles, woodworking, large scale metal art, digital fabrication, and traditional crafts. I basically just love making things, and will go gung-ho over any project that is exciting, or at least funny." Find her @ladycartoonist and go look at her site!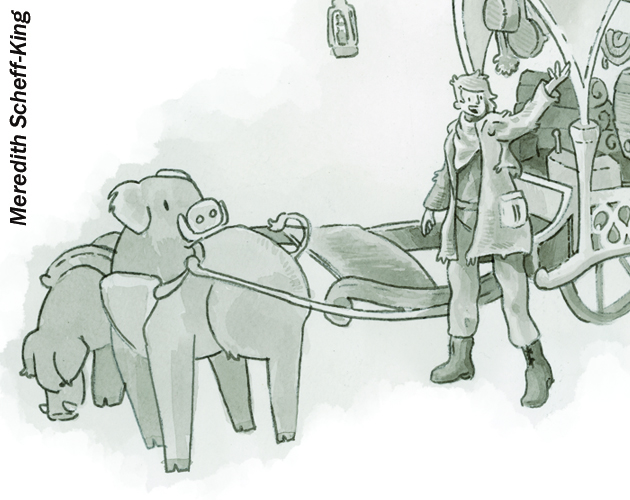 Finlay Louden says "Hello! I'm Finlay (xe/xem) and I make dolls and illustrations out of paper and cardstock. I split my time between paper cutting, cosplaying, and reading comics—and sometimes those things overlap. You can find all my craft and artistic work over on my Instagram account: @transmachina." When I saw Finley's papercut and quilling work, I was viscerally reminded of the Cottingley cut-paper fairies. These are such small pieces!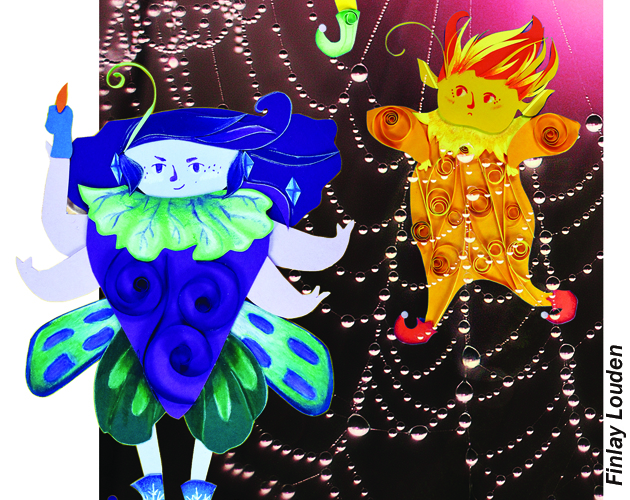 Kay Pilatzke is a teacher by day, an artist by night, and had just the perfect touch of whimsy for this project! She was the last artist we hired for this project, and with her, this list is complete! Follow her on twitter @pikatzke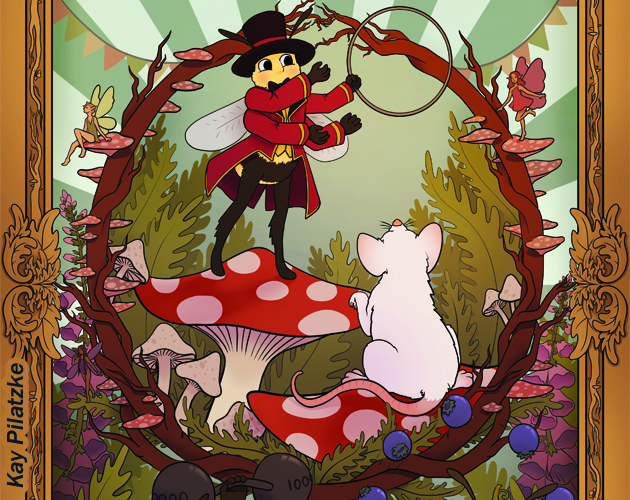 Buy the PDFs
Preorder the Book in Print
Back to Under Hollow Hills