For Under Hollow Hills, we're working with a dozen artists and illustrators, in a variety of mediums. We want to evoke the fancy and variety, not to say anarchy, befitting a game about a traveling show, and about fairies. Here's an introduction to a first few of the artists:
Hannah Culbert is a non-binary goblin dwelling in the frozen wastes of Minneapolis. They love Halloween, weird old silent films, and doing copious amounts of research on folklore and plant symbolism. In addition to freelancing as an illustrator, they play the character Slake (a beetle-obsessed half-orc fighter) on the powerfully weird DnD 5e podcast Dames and Dragons. Follow them on Twitter @Thistlebeetle, or check out their portfolio at http://www.hannahculbert.com/.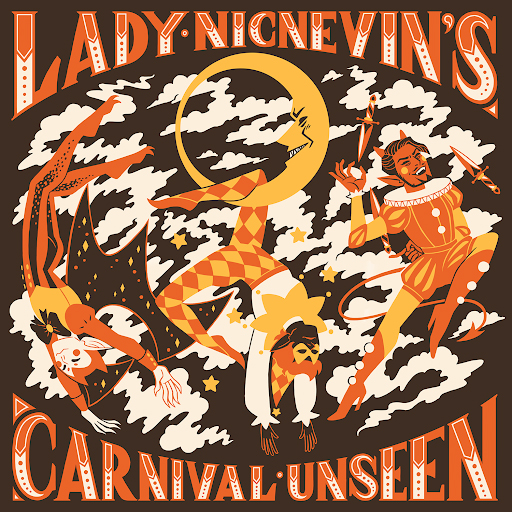 Hannah sent me this as a sample of their work, and I was smitten. Their artwork draws in threads from the circus posters of the 1900s, and the typography in their work is stunning. Hannah is making for us a poster advertising a performance by the Troll and the Crowned Stag, and gosh I love it.
Matthew Spencer works primarily in ink and watercolor. He has a particular interest in all things magical, historical, and queer and is currently in the early stages of designing & illustrating his own tarot deck: The Courtly Beasts Tarot. Matthew lives in Michigan with a flock of chickens, a couple of horses, and some pretty cool people. Find him at https://twitter.com/MSpencerDraws.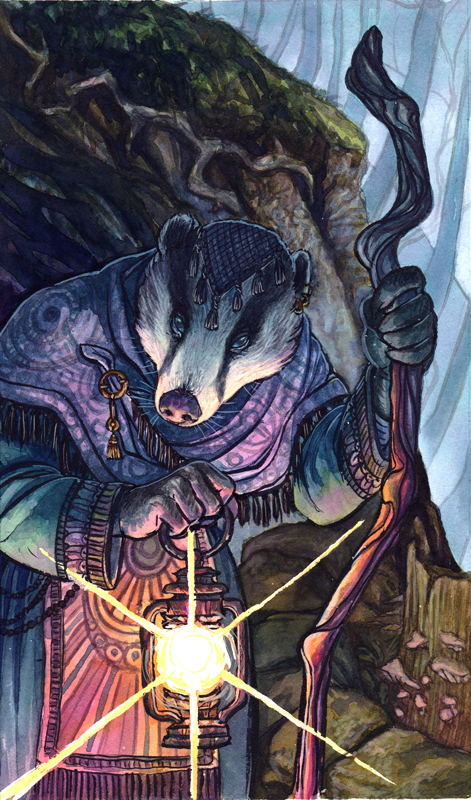 Matthew's illustrations pull in a host of imagery from ages past. He also does lino-cuts, which reminded me of woodcuts from hundreds of years ago. Fairies and stories of fairies are hundreds of years old; I want older techniques as well as newer ones. He is drawing a Crooked Wand based on a character he has played, in conversation with fellow circus-folk.
Ash Cheshire is fairy royalty masquerading as a non-binary creator of art and games in northern California. Other games of theirs include '(Abyssal)', 'I Haven't Seen You Since…' (featured in 'You & I: Role-Playing Games For Two'), and a new game every month on their Patreon like 'Gods of Vengeance, Hear My Plea!' and 'Weasels Are ILLEGAL!'
Ash's work: https://www.instagram.com/divinecheshire/, https://www.patreon.com/ashcheshire, https://ashcheshire.itch.io/.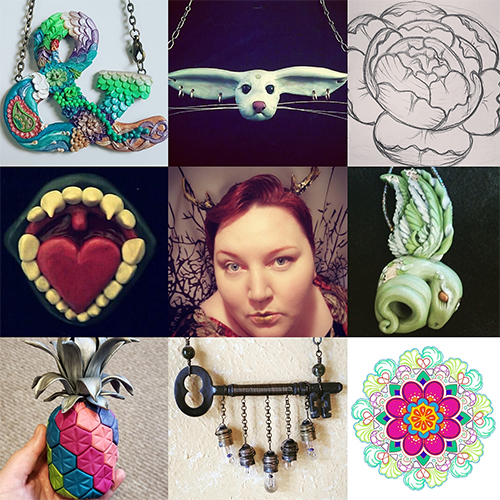 Ash is a sculptor of lush voluptuous wonder packed into unexpected places. Our discussions about the initial concept for their piece were a perfect collaboration, and I'm so excited to see what happens next. Ash is creating a three-dimensional wagon of the fairy train.
Loren Ponder is a digital illustrator and comic artist from the US. Their work weaves together themes of queerness, disability, and fantasy: depicting people, nature, and creatures using bright colors and bold lines. Loren's work is here: https://twitter.com/winglorn.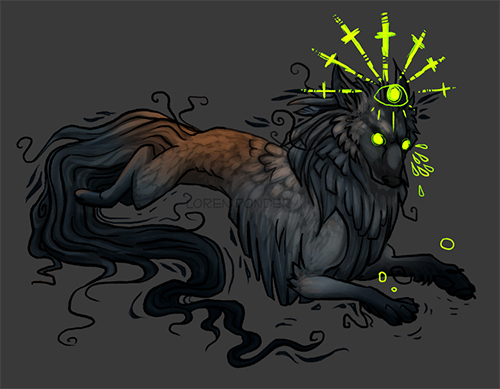 Loren's inky dark-on-dark work made me see the Nightmare Horse like nothing else I saw in the work of artists who responded to my call. Sometimes a character just wants what it wants.
Aaron King is a collage artist, RPG writer, and bookseller in Minneapolis, MN, USA. Find them on Twitter @aaronmfking and buy their games at https://erinking.itch.io/.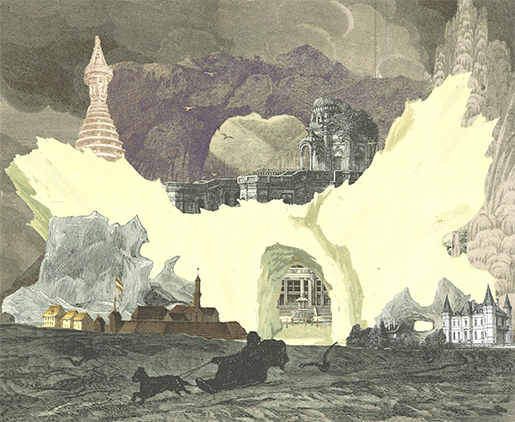 The assemblage and found-art pieces that Aaron does play with layers and perception, things out of context and attention to small details. It's perfect for the Interloper, who is out of place and in disguise. The early progress on this piece is very cool and FULL of fascinating symbolism.
Finlay the Machine says "Hello! I'm Finlay (xe/xem) and I make dolls and illustrations out of paper and cardstock. I split my time between paper cutting, cosplaying, and reading comics—and sometimes those things overlap. You can find all my craft and artistic work over on my Instagram account: @transmachina."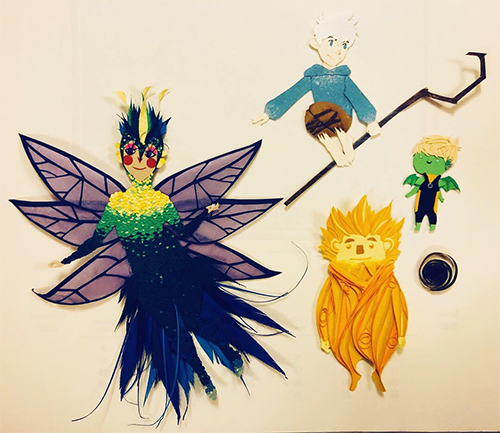 When I saw Finley's papercut and quilling work, I was viscerally reminded of the Cottingley cut-paper fairies. These are such small pieces! That blue fairy is only 6 inches tall! Finley is making the Firefly Wisp. I'm still not convinced that orange piece isn't perfect as-is.